Using behavior analysis, TEMASOFT Ranstop blocks most of the current and future ransomware. If anything slips through, it allows recovery of the compromised files without paying ransom.
CLUJ NAPOCA, Romania – Jan. 27, 2017 – TEMASOFT announces the Beta release of TEMASOFT Ranstop, a new, innovative product that delivers anti-ransomware technology. TEMASOFT Ranstop uses a behavior analysis engine that can detect and block most of the current and future ransomware, including custom and zero-day variants. Also, TEMASOFT Ranstop protects the files using an intelligent real-time protection engine, which allows data recovery in those cases where ransomware cannot be blocked or even in the case of accidental loss. These are the main features of TEMASOFT Ranstop:
Detects and blocks ransomware running on the local machine, including ransomware executed as a script;
Detects and blocks ransomware running remotely, on unprotected assets, that attempts to compromise files via the network;
Protects the Master Boot Record against ransomware that attempts to boot up malicious boot-time code (i.e. Petya);
Protects personal files automatically;
Protects user files in real-time, depending on how they are manipulated;
Allows the recovery of the relevant files after ransomware incidents, or on accidental file loss (only if Ranstop was installed before the incident).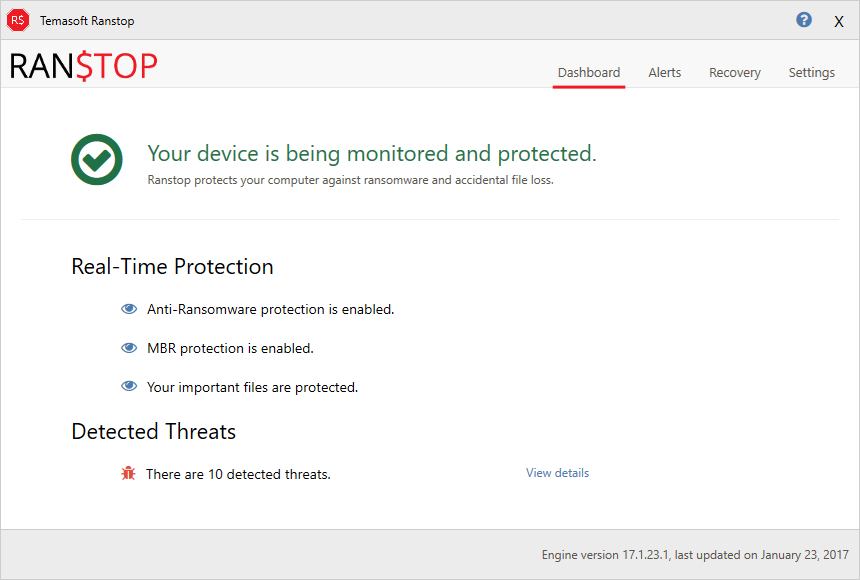 TEMASOFT Ranstop is a reliable and innovative anti-ransomware software and  a perfect companion to anti-malware solutions suitable for detecting and blocking common malware but falling short on ransomware attacks. The Beta version is available for download here.
Subscribe to the company's newsletter to get a notification when the release is available, as well as other useful information: http://temasoft.com/subscribe-to-our-newsletter/
"All over the world, many have been affected by ransomware, a category of malware that bypasses traditional security systems, seizes important files, and then asks users to pay money to get them back.
Unfortunately, fighting ransomware is not an easy task, as unlike traditional malware, it can be much simpler and very often it's hard to track it down.
As we are a document protection company, we decided to join the effort to combat ransomware, so we created Ranstop, an innovative tool that we hope will help many people keep their files safe against any threat." said Lucian Mocanasu, TEMASOFT CEO.
About TEMASOFT
TEMASOFT is a software company committed to becoming a leader in data protection solutions, with over 15 years' experience building security and infrastructure software applications for various partners, including several award-winning products used by thousands of customers worldwide.
Media Contact
Calin Ghibu
calin@temasoft.com
+40-364-401447
https://temasoft.com/wp-content/uploads/2015/12/Sigla-300x86.png
0
0
Calin Ghibu
https://temasoft.com/wp-content/uploads/2015/12/Sigla-300x86.png
Calin Ghibu
2017-01-27 08:04:11
2023-08-21 07:27:51
Ranstop blocks ransomware and restores files